Membrane Service Proxy
is an reverse HTTP proxy and framework written in Java, licensed under the ASF 2.0 Open Source License, that can be used to:
create service proxies out of SOAP and REST services
integrate services over HTTP
expose internal services to the internet
secure services
convert Web Services to REST resources
Follow the SOAP and REST tutorials or have a look at the examples to get started.
Samples
Hosting virtual REST services is easy:

			<serviceProxy port="80">
				<path>/restnames/</path>
				<target host="www.thomas-bayer.com" />
			</serviceProxy>
		
By default SOAP proxies configure themselves from WSDL:
A console shows all details of the configuration, statistics and recent requests: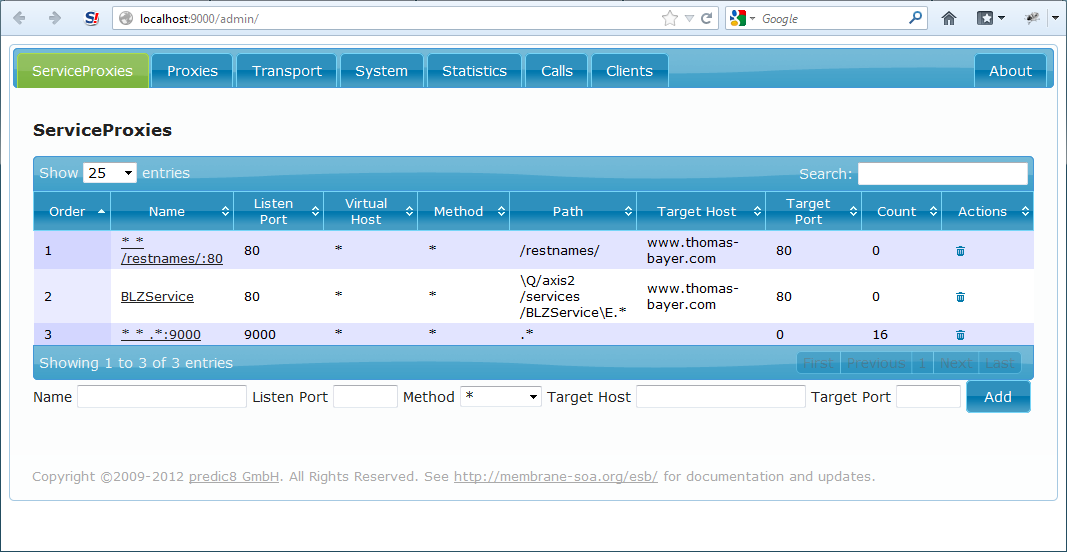 Follow the SOAP Quick Start Guide to learn how to use a soapProxy, XML Schema validation and SOAP Stack Trace Filtering.
What's new in 3.5
Using the default configuration, there is a new "Calls" tab in the admin console. You can inspect the latest requests and responses that passed through Membrane. You can filter and sort by many criteria, and drill down to inspect every detail of each request.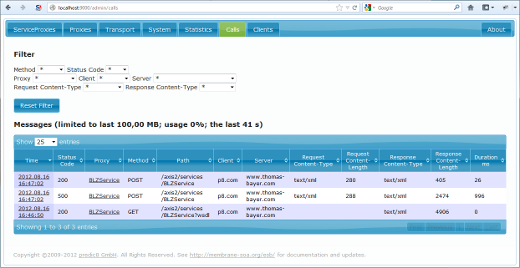 Using the new SOAP Explorer (automatically activated by using soapProxy) together with the new index interceptor (an overview of all proxied services), clients can comfortably browse the available Web Services, look at the list of operations, investigate data structures and retrieve templates for SOAP requests.
Highlights
SOA Features
Rewriting of endpoints and schemaLocations in WSDL
Web Services Loadbalancing
Validates SOAP messages against WSDL
Documentation
Find tutorials, references and step by step explanations in the documentation.
Problems and Support
You can browse the Membrane Monitor Mailing List at Google Groups. Post any questions, feature requests and feedback to the list. A subscription is not needed for posting. You also can get commercial support for the Membrane products.
License
The Membrane Service Proxy software is provided under the terms of the Apache License Version 2.0. The software contains external components and libraries. See the notice regarding external components in the distribution archives..